OMG!  I'm blogging! WOW, it has been a LONG time since my last post but this year is a NEW start! I will be blogging ALL my sessions from 2015 so that I can showcase more of your beautiful images!!  YAY!!!
So,  I started off the year with a boudoir marathon!  These ladies are AMAZING and I am so glad that I was able to capture these images and to show them that they really are STUNNING!  Each one of them came in feeling nervous and left feeling Beautiful and excited!!  Every woman of every shape and size deserves to feel beautiful in her own skin and boudoir sessions are a fabulous way to do that!  You are not just a wife and/or mom.  YOU are beautiful, YOU are stunning and YOU deserve to feel like the sexy gorgeous WOMAN you are!
Check out these AMAZING ladies and what they had to say about their sessions!
Hair and Makeup is always included and was done by the ALWAYS fabulous Noelle from Eglow Boost Beauty.  You SERIOULSY need to check her out.  She does the hair/makeup for A LOT of my brides, ALL my boudoir sessions, other shoots as well as all of my personal hair and makeup needs!  Seriously, go like her page and keep her number handy!
"I've wanted to do a boudoir photo shoot for a long time, but did not get up the guts to do it until just recently.  I've been a fan of Cherise for a long time.  I've been very impressed with her work that she has posted and from people that I know that worked with her.  I wanted a chance to work with her, and a boudoir session was the perfect opportunity.  Right from the start, I had the best experience.  Noelle from EGlow Boost Beauty is such a talented makeup artist.  She knew exactly what I wanted and made the look come to life.  Cherise was great from the start about making me feel comfortable, she was more like hanging out with a friend.  I'm so happy I took the plunge, and am already looking forward to another session later down the road.  Thanks Cherise and Noelle!"  ~ Mrs. T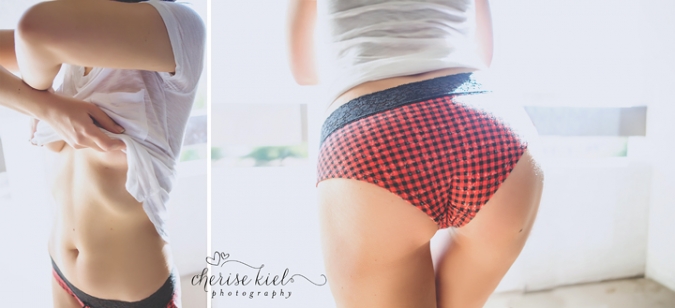 "I was very nervous to schedule a Boudoir session since it was my first time ever doing something like this.  I was pleasantly surprised how comfortable and easy Cherise made me feel when I met showed up for the shoot.  I would recommend her to anyone looking to have photo's done whether for boudoir, family, wedding, or children! Thank you!" ~ Mrs. J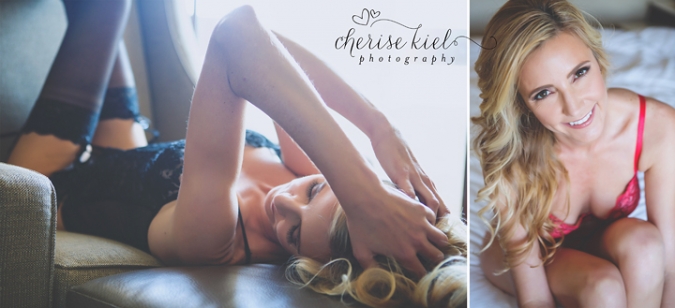 "I had such an amazing experience I'm ready to do it again. Thankfully Cherise is doing my engagement pictures and wedding! Originally I did the boudoir session for my fiancé, such a great gift for the man that decided to marry me ;)! In the end I'm the one who got the most out of it, I left feeling beautiful and confident. Thank you, thank you!!! " ~ Ms. B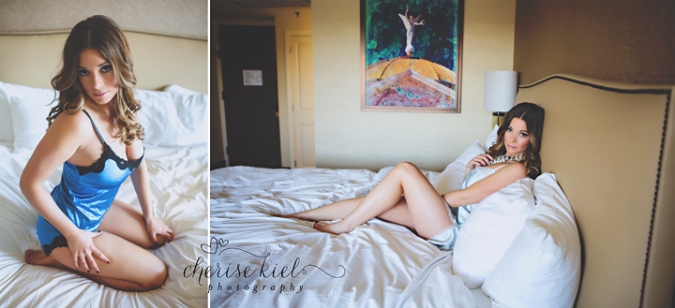 "I had such an amazing experience doing boudoir photos with Cherise!!  She made me feel so comfortable from start to finish.  Noelle, her amazing stylist, did hair and makeup to make any girl feel like a million bucks!  All of that gives you the confidence to walk out in front of that camera and work it!!  Cherise makes sure everything looks just perfect and guides you every step of the way.  She creates a very relaxing atmosphere so all that's left is to do is have fun!  If you have been thinking about taking photos like this, Cherise is your girl!!!!!"   ~ Mrs. L


"
I had been wanting to do a boudoir photo shoot for some time, and my experience was far greater than expected.  I was nervous going in but after having my hair and makeup done, which was amazing, and talking to both Cherise and Noelle, I felt so relaxed.  I enjoyed the shoot much more than I expected to and it flew by!  It was definitely one of the best decisions I've made because I sure can't wait to see the amazing work Cherise did that day."  ~ Mrs. L



"Every woman deserves to feel beautiful which is why I chose to do a boudoir session. After my last baby, I wanted to feel sexy again. While my post baby body is not perfect by any means, Cherise was able to hide my flaws through her expertise in posing and lighting. She was able to put me at ease and the session was fun. I loved seeing the photos and thinking that sexy person is me. If you are considering doing a boudoir session, you should, first for yourself and then maybe for your significant other"


And last one!  "I have always admired the photos Cherise takes, everything from newborn, family, engagement, weddings and boudoir sessions. I've always wanted to work with her and try something out of my comfort zone such as the boudoir session and she made the experience such an amazing one. I had no idea what to expect and was quite nervous. Cherise made me feel so comfortable as if she was my best friend, very fun, easy to talk to and a session full of laughter. Noelle was just as amazing made me feel so beautiful and knew exactly the look I was going for. I'd recommend Cherise for any type of photos you are looking for as she is amazing. And for all the ladies who are unsure about a boudoir session, do it! You will not regret it. She makes you feel absolutely beautiful. And the photos are great for your significant other or yourself 🙂 Thank you both Cherise and Noelle for an amazing experience and making me feel absolutely beautiful :)" ~ Ms. C


These ladies ROCKED their sessions and left feeling Beautiful and Confident!! THAT is why I love doing these sessions!  With so many unrealistic expectations out there on how we as women should look, I LOVE making women feel beautiful and gorgeous no matter their size or age!!
I have Another boudoir marathon coming up July 25th and would LOVE to have you join us!  Email me at c_k_photography@yahoo.com for more information!  And if you can't make it to our marathon weekend, you can do a full session any time of year!!